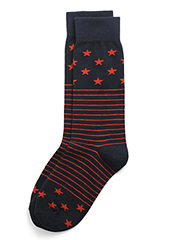 The holiday weekend is fast approaching, and you can only think about one thing:
What your ankles should look like for the occasion.
Here to help you handle this supremely pressing issue is
Del Toro x Richer Poorer
, the unholy alliance of a SoCal sock company and an esteemed shoe emporium that gets you socks that'll catch some eyes when you sit down on a back porch, available now.
You might've seen Richer Poorer's socks in shops around town. Or if you haven't been paying too much attention to breaking developments in the sock universe, just know that they're colorful and stripy and meant to add a quick flash of oh-hey-check-out-that-fella's-ankle-region when you're walking down the street.
Anyway, their new confab with Del Toro—which usually concentrates more on wingtips than what goes inside them—has birthed a bunch of socks to give your feet a more bully-for-America flair. The blue-and-red stars and stripes would add a bit of anthemic glory to some chinos in a friend's backyard this weekend, or you could pick up a green pair with a pixelated camouflage design.
In case your ankles don't want to be seen.