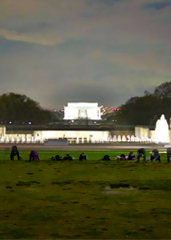 You've done just about all there is to do in downtown DC. Some of it, you've even done in front of tourists. (They may never be the same.)
So you might as well train like the Green Berets downtown.
Presenting the
Goruck Challenge
—a 12-hour slice of Special Forces training, taking registrations now for September and December sessions.
This is your chance to spend an entire day just like a Green Beret or Navy SEAL might, without actually having to enlist. Or go to war.
You'll assemble at a location to be named, and meet your "cadre"—a current or former Special Ops soldier with several tours under his belt—and your 30 fellow operators.
Now, on the one hand, organizers stress that it isn't all about a punishing physical beat-down—plenty of the challenges you'll face involve group problem-solving, or staying undetected as you move around the city (so if you ever wanted to dress up as a mailbox, this may be your opportunity).
But on the other hand, you might be asked to carry a log for a couple hours, or cover multiple miles—say, from the Supreme Court to the National Cathedral—in 30 minutes, so you may want to do a few pushups between now and then.
Doing your John Wayne impression will only get you so far.