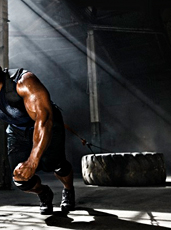 Truck axles. Giant tires. Yokes. Some people look at such a collection and see an episode of
American Pickers
. Other people say, "I could lift those."
Time to be one of the latter.
Presenting
Strongman Training
at Primal Fitness, now taking students who are looking to lift, press, flip and carry some objects that were never designed for the purpose.
If you've ever watched ESPN2 and marveled at guys named Magnus Ver Magnüsson and Mariusz Pudzianowski, well, you'll basically be doing the same things. But, you know, with smaller boulders.
If you just want to dip your toe into some of this craziness, you can start off at this Spartan gym's CrossFit program, where they might ask you to lift a keg up to your shoulders or flip a tire over a few times, all the while instructing you in proper form (yes, there is such a thing as proper form when flipping a truck tire).
But if you really want to get serious about this, you'll start training with guys who compete in local strongman competitions and think nothing of hoisting a 200-pound stone onto a box.
Next step: make friends with Amtrak so you can pull a train.