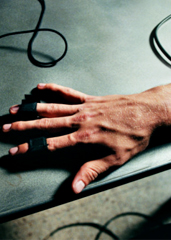 You've got a sneaking suspicion that everyone is lying to you. The last DC councilmember you ran across. That sandbagger who keeps challenging you to a round of golf. That 7-year-old who told you he was using real lemons at his lemonade stand.
The fiend.
Okay, settle down.
We've got a way that you can know for sure. It's called the
Lie Detection 101 Workshop
, and it goes down next Wednesday at the International Spy Museum.
Basically, this is your chance to absorb all the secrets of a guy who spent 16 years as a US Army interrogator before going on to teach Navy SEALs and the Defense Intelligence Agency.
He'll go over all the physical clues and emotional giveaways that will help you spot the next Nixon, Ponzi or that guy who dated Anne Hathaway.
Fortunately, you won't have a bright light shining on you in some black ops prison. You'll just be hanging out over some light snacks and cocktails. And, of course, he'll be picking up the tabs. (Actually, that was a lie... See, you're good at this already.)
Then he'll send you back out among the masses, a little more aware and ready to shout "You lie!" the next time you spot the slightest prevarication.
Just don't do it at the State of the Union.