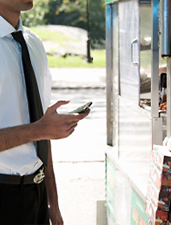 Here's the thing about food trucks.
They're trucks.
And trucks have wheels.
And the wheels on the truck go... round and round.
Round and round. Round and round.
Which brings us to that time you wanted a hot dog but couldn't find where the damn hot dog truck was parked.
The reason that'll never happen again:
TruckSpotting
, an app that tracks mobile eateries (20 local trucks and counting) with GPS (yes, satellite-guided taco seeking), available now for iPhone and Android.
Okay, so it's basically LoJack. But for your lunch. An app that uses real-time satellite data to locate some of the area's most sought-after food trucks (think Yumbii, Rouxd, WOW!) and then leads you right to them.
Here's how it works: participating trucks are given a black box. Once activated, the black box will broadcast every move the truck makes. Then, you'll download the app. Once activated, the app will pick up every broadcast the black boxes make. So say it's tomorrow. 12:17pm. And you require chicken tikka masala. Just fire up the app, search the included menus and find the nearest Indian-food-slinging vintage postal van. Follow the directions, get the chicken tikka masala and chew.
We assume you don't need an app for that.