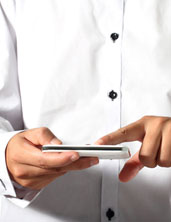 You had a nice weekend.
But it was hot and sticky. Also: you spent a lot of time on the phone making reservations and such.
Which got you thinking: it would be great if you never had to call a local business again. Ever.
Welcome to great.
Presenting
Pingup
, a Boston-based application for texting directly with area bars, food trucks, nightclubs and more, available now.
In short, this lets you text local spots the way you normally text your friends, thus bringing your dream of living in a text-only world that much closer (although you'll still call Nana on her birthday).
So fade in: it's Thursday. You're looking for intel on the line situation at Royale before rolling up with your normal entourage. Your man on the inside: not inside that night. Just open the app, search for Royale and send them a text with your question, which will be answered by an actual Royale person (who gets the texts forwarded to their own phone).
Over 200 local spots are already accessible through this app—everything from food trucks (Momogoose, Pennypackers) to bars (Stoddard's, the Harp) to restaurants (El Pelon, Saus). There are even a few salons, and the Harvard Museum of Natural History, all just a text away for a reservation or question.
Nothing worse than dealing with a Saturday night line at the museum.