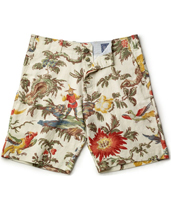 Breathe in............
Breathe out..........
Breathe in...........
Breathe out..........
Feel that? That's you relaxing. Getting ready for the weekend. Getting ready for a whole lot of porching/hammocking/nothing. Good. That's good.
Now, if only we could do something about your shorts.
The solution:
Old Bull Lee
, a bunch of Italian-sourced summer shorts that are made from the most laid-back fabric on earth, available online now.
These things: the work of a former architect who one day decided he'd rather make half-pants than houses.
So he flew to Europe and met with some Italian textile magnates, and they let him in on a little secret. The key to great shorts: happy fabric. The key to happy fabric: a cave.
Yes, a cave. One cave in particular. With a stream running through it. Apparently, the conditions provide a stress-free environment (also, the ideal levels of humidity) for storing things like long-staple cotton. Basically a spa for fabric. Basically the most Italian thing ever.
So say you've got a vacation coming up (or you want to treat your thighs to the sartorial equivalent of one). You'll head to this site, browse the ornate prints (think: Hawaiian meets Victorian) and pick a pair that speaks to you. That's when they'll summon your shorts from the cave and send them stateside.
May want to wash them once before wearing.