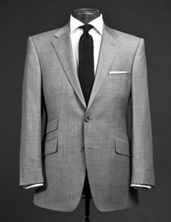 James Bond is fake.
It's a fact. He's not real.
That's the bad news.
The good news: Sean Connery is real. And so were the suits he wore while playing Bond in the '60s and '70s.
Handsome suits. Special suits. Suits that made disarming Dr. No's atomic-powered radio beam and boating off into the sunset with Honey Ryder look easy.
And now, they're your suits...
Take a look at
The Conduit Cut
, your chance to don an exact recreation of 007's signature suit stitched together by the same London tailor who outfitted Connery back in the day, available now.
So the 50th anniversary of the first Bond flick ever is this year. Big year. For starters, you get to say the word "Moneypenny" whenever you want. Also, the natty blokes over at Anthony Sinclair have finally decided to let you look like Technicolor Sean Connery.
You can go one of two ways here. Shoot them an email, relay your measurements and have them send you one off the rack (one of the few times that play will turn out amazing for you). Or have them bespoke one out for you (they cross the pond for fittings several times a year).
Either way, soon enough, one of these things will be draped over your body in all its slim-silhouetted, full-chested, villain-slaying glory.
Don't actually slay any villains, though. That would be murder.