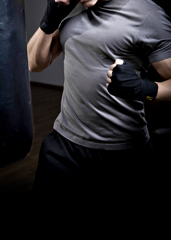 We know it sounds hard to believe, but there may come a day when someone wants to mess with you. Could be your lover's jilted ex. Could be a Phillies fan. Could be the guy on the other side of the ring during a live pay-per-view event.
In any case (well, especially the last case), you probably should be able to defend yourself.
Which brings us to a firehouse. And a champion muay Thai kickboxer.
And
Pentagon MMA
, a new no-nonsense school of defense led by a champion fighter from Nepal, in the former home of Arlington Fire Station No. 1, taking new students now.
If you ever had designs on getting in on ultimate fighting, these guys can get you ready (in addition to the instructors, four competitive fighters already train here). Of course, if you just want to get in really good shape, they're happy to do that, too.
After you sail through one of their foundations courses, you'll be able to train in muay Thai (think lots of legs and elbows flying, and hitting 100-pound heavy bags imported from Thailand) or Brazilian jujitsu (what happens when those flying elbows don't get the job done and you wind up fighting on the ground).
If you'd rather just test your mettle against one of the instructors, they offer personalized private training, either at the studio or at your home.
Home-field advantage might not apply.