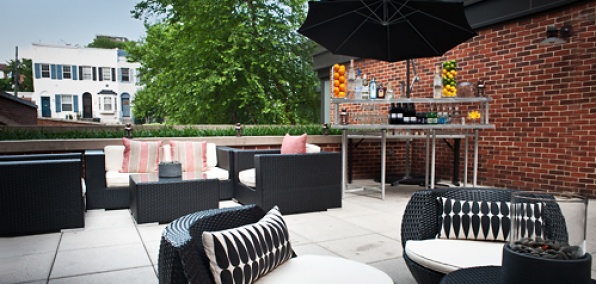 This time of year, your average patio serves all kinds of ancillary functions. Secondary office. Alfresco breakfast nook. Sun-soaked power-lunch spot.
Spa: not generally among them.
So welcome
The Urban Garden at the Ritz-Carlton Georgetown
, now open for evening cocktails, business meetings and, yes, Swedish massages.
To get here, you'll start in the library, make a hard left past the fireplace and enter a two-level oasis, enclosed on all sides and filled with fresh grass, stone walls and a grove of trees.
The next time you consider a full-frontal assault on the Georgetown waterfront, you might want to go more subtle here, with
a round of Sazeracs and steak frites
at one of the wicker high-top tables or low lounge seats.
But power-lunching and happy-hour-ing are the least of what you can do back here. The next time you've got a fund-raiser or a client event, the space can hold up to 150 for mingling.
Of course, should you want to dispense with the other 149, you can call up the spa and book
a gentleman's facial or an 80-minute sports massage
. Before you arrive, they'll throw up a screen on the grassy area just past the aspen trees—to keep the curious eyes of the lunch crowd away from your organic blueberry facial.
Unless you're into that kind of thing.