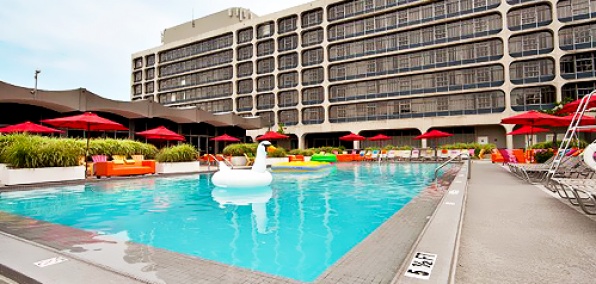 This weekend, the new Mother Trucker pool party debuts at the Capitol Skyline Hotel pool. But wait... the Adult Swim party soft-launches there as well. One's on Saturday, one's on Sunday. And while you might be bold enough to try both, you may want to be judicious about this. Here's what you need to know.

In Your Glass
Mother Trucker: 10 bars will be slinging mixed drinks and beer (we hear there's a special emphasis on PBR cans).
Adult Swim: Six bars, but also... bottle service champagne and liquor.
Edge: Adult Swim. We'll take bubbles and waitresses.

On Your Plate
Mother Trucker: 20 food trucks decamped in the parking lot.
Adult Swim: A giant grill turning out burgers and dogs all day.
Edge: Mother Trucker. We hear pie and ice cream may be involved.

In Your Ears
Mother Trucker: Four local DJs spinning all day.
Adult Swim: Local DJs, along with live musicians like bongo drummers and saxophonists.
Edge: Adult Swim (though we'd like to put in a request for a DJ with steel drum accompaniment).

Extracurriculars
Mother Trucker: Fire-breathers, aerial artists, multiple moon bounces and a giant Slip 'N Slide on the parking deck.
Adult Swim: An armada of blow-up pool toys and costumed dancers throughout the day.
Edge: Mother Trucker. But remember, no moon bouncing for a half hour after eating.
Note:
<a href="https://www.facebook.com/pages/Mother-Trucker-DC/307332412671188" target="_blank">Mother Trucker</a>, seven Saturdays this summer starting May 19, 11am-7pm, $15 to enter pool area, 202-643-1223<br /> <br /> <a href="http://www.dcpoolparty.com/" target="_blank">Adult Swim</a>, Sundays this summer starting May 27, noon-6pm (private soft-launch May 20, 2-5pm), $20, reserve tables at 202-737-3783