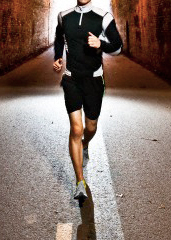 Your body has done some great things for you, taken you to some great places.
The Bahamas. Rooftop happy hours. Brunch.
Makes it tough to return the favor with those three Ironmans you budgeted for.
What you need: a trainer who goes where you go. Or at least wherever your computer goes.
Presenting
Online Training by Rich Salke
, available now to virtually guide you to Jason Statham–like levels of fitness in time for summer.
This trainer checks in with you every day, but leaves the heavy lifting (literally) to you. Because it's all done via email.
The guy on the other end: he's been a bodybuilder and an instructor in physiology at UMD. Also: he's helped develop training programs for the Secret Service (too bad they can't outrun scandal).
He'll start off by getting a few photos from you, then asking some questions about your current habits, like the last time you did a push-up and whether you like your chocolate cake deep-fried or not.
Then, depending on if you want to bulk up or slim down, he'll give you a routine based on what you have handy, whether it's free weights or monster-truck tires, and a diet probably based on chicken and asparagus.
And then he'll check in with you to fine-tune your plan and make sure you're not cheating. Every day.
Asparagus = gold star.