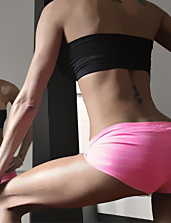 Let's talk about your daily workout routine.
...
Exactly.
Something tells us we'd have a lot more to talk about if we could just find you the right... inspiration.
Oh, here she comes now.
Meet Lisa-Marie—the absurdly chiseled and borderline mythical creature of a fitness goddess behind
BodyRock.Tv
, a new series of online workout videos designed to actually make you want to do a dead lift or two, available now.
Sure, you manage to stay adequately fit on your own: there's the morning half-K. The afternoon push-up. The evening... doing of things. But again, there's something about having access to a structured, daily-rotating set of exercises (complete with the appropriate corresponding visuals, of course) that just kind of helps.
And that's exactly what this is. Once you hit the site, you'll be able to cue up any number of instructional videos with names like "Look Hot Naked" and "Girls on Top" (so, you know, subtle) taught by Lisa-Marie herself.
There's also a food and diet section with recipes and supplement recommendations, as well as a travel section fraught with vacation-specific nuggets of information—like how to do burpees on the beach.
And what the hell a burpee is in the first place.