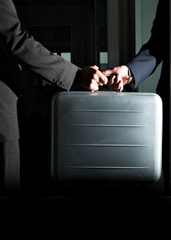 You've taken down a bad guy or two in your time—a boss here, a condo board president there.
But your next target might not be so easy, so ripe for the taking.
Which means it's time for some graduate-level work in the fine art of shadowing, spying and generally nosing around.
And we've got your instructor.
So get ready for
Surveillance 101 with Eric O'Neill
, a three-hour crash course at the International Spy Museum, taught by one of the FBI's most famous agents.
Just in case you need a refresher: O'Neill is the guy who nailed his boss, Robert Hanssen, who was spying for the Russians (you may have seen the movie). He'll meet you in the museum's classroom on a Friday evening in May, and start spewing his wisdom on following your target, keeping him in view and taking clandestine photos.
Then it's on to the mean streets of DC, where your small group will split into two smaller teams to track an actual "person of interest" whom you'll call "The Rabbit" (hint: it's probably not the guy with the fanny pack and the Oklahoma City Thunder T-shirt).
Your evening of Bond-ology will conclude, fittingly, with a cocktail at Zola, where O'Neill will debrief you on your exploits before sending you out into the world again... wiser, and probably a little more suspicious.
We hear the Secret Service is hiring.