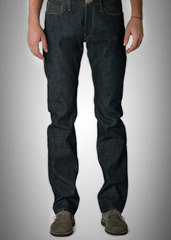 Man, a lot went down over the weekend.
You polished off the very last thing on the menu at UMAMIcatessen. Don Draper's wife sang that crazy French song. Somebody wore the same jeans as you.
[
record scratch
]
Let's make sure that last thing doesn't happen again...
Give a hearty welcome to
3x1
, the SoHo-based house of denim finally importing limited-edition quantities to our coast, available now at Barneys and Ron Herman.
If you didn't hear, a guy from Earnest Sewn opened a fancy SoHo factory last year called 3x1—the kind of place where you can go in and drop $1,200 for a pair of jeans so custom that they pump out the scent of bourbon when you're feeling sad. Or something.
You still have to go to SoHo for all that, but they came up with some limited-edition jeans to ship this way—just a few slim-but-not-too-slim styles made solely for Los Angeles, in navy blue and light gray. The kind of sleek, unadorned jeans you can dress up with a blazer for a party in the hills, or... dress down with a T-shirt for a party in the hills.
And depending on the style, there are only eight, 12, 16 or 24 pairs made. Which means the odds of another person copying your look are incredibly slim.
But not too slim.