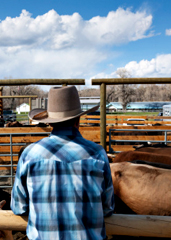 Normally, we're here to give you the unvarnished truth.
Today, we're just going to give you a lot of bull. Literally. Like a weekend spent riding them.
Presenting the
Bull Riding Clinic at Wicked R Western Productions
, a two-day crash course in going toe-to-toe with your would-be steak, taking reservations now for May 12 to 13.
Think of this as
City Slickers
, if only there were a greater chance of Billy Crystal being stomped or gored. Savor that thought.
In a few short weeks, you'll make your way out to Wyoming, Delaware (yup, really), to the ranch of Randy Ridgely, who happens to have been a professional bull rider and steer wrestler for 20 years. You'll listen to what he says, then move on to a mechanical bull, bareback horses and finally beginner bulls (look for the training wheels).
Depending on enrollment, he'll have a dozen or so bulls on hand, with plenty more on call (with beepers, presumably). So once you get the hang of things and start to feel bold, you can graduate to older, bigger bulls.
You'll provide the bedroll when you settle down in the bunkhouse on site. They'll provide the burgers, dogs and beer for a cookout and bonfire on Saturday night, which may or may not include cowboy stories.
Might be a good time to bust out the ukulele.