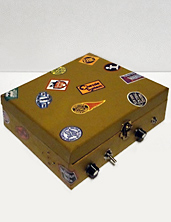 Quick: take an inventory of the things around you.
Old fax machines. Rolodex. Ouija board. Empty tallboy cans.
You're probably thinking two things: 1) Time to fire your chief communications officer. 2) You finally have all the makings of your new sound system.
Introducing
Artistic Amplification
, available now to turn almost any solid object into a speaker for your portable MP3 player.
If you've ever found yourself listening to New Order and thinking "Blue Monday" could be so much more interesting coming out of a speaker that was once an '80s-era NES (we're assuming this was circa 1989), you'll want to act immediately.
These products come from an amateur guitar player/community-college instructor who wondered if his guitar amp would sound better if it were made from empty beer cans. After a little tinkering, soldering and wire rigging, he got his answer: not really. But not terrible, either. Plus, it looked cool. So another chapter in made-in-America entrepreneurism was written.
If you go to his site, you'll see guitar amps made from mallard duck sculptures and speakers made from cigar cases and
Ghostbusters 2
lunch boxes (perfect for your Ray Parker Jr. albums).
And he's also doing custom jobs, if there's something special you'd like converted into a speaker. A sentimental cocktail shaker. A beloved thermos. A Best New Artist Grammy you have lying around.
Hootie won't miss it.