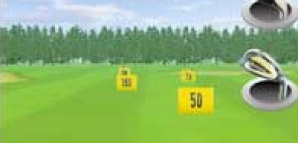 Sometimes you'd love to hit the links but you have to settle for the driving range. Other times, you'd love to hit the driving range but you have to settle for...making money.

But now you can swing from anywhere, even while you're on hold with Shanghai.

Meet iGolf, a new free app for your iPhone launched earlier this week by Palo Alto's Social Gaming Network. (Note to self: Take money out of Merrill Lynch, put into Social Gaming Network.)

iGolf is a virtual driving range that uses the iPhone's accelerometer to measure your swing speed and approximate the distance you would've launched that Titleist. In other words, it's Wii-level technology on your phone, and it might be the greatest contribution to the simulated golf world since Golden Tee.

You can choose from three different clubs, but you'll want to start with the driver. Assume a golfing stance, tap "hit" on the screen with the iPhone pointed down, then give it your best Ben Hogan backswing and follow-through. Watch as your ball sails down the fairway, finally rolling to a stop 300 or 400 yards away from the tee.

Oh, and be sure to maintain a firm grip on your iPhone.

The water hazards in this game are especially unkind.