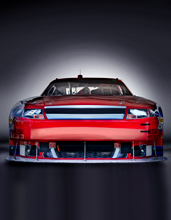 Taxis blocking the box. A red light at seemingly every block. Speed cameras. It's enough to make you give up your license and strap on some roller skates.
Unless there were another way. A place where you can go as fast as physics allows, rather than what the law allows.
That place: Old Dominion Speedway, a NASCAR-sanctioned track in Manassas. Your way in:
Try It Racing
, an outfit that puts you behind a stock-car wheel, taking registrations now for their season beginning March 11.
This is the kind of place where a commercial would warn you: "Closed course. Do not attempt."
You'll get started by playing a lot of Sammy Hagar on the way out there. Then you'll head into the pits (they thoughtfully provide the crew) and get suited up in a helmet, neck brace (they can't have you giving yourself whiplash) and set of racing coveralls (they can't have you bursting into flames).
Now, at this point, you may have signed up for a simple ride-along, which has you sitting in the passenger seat as a licensed NASCAR driver rips through five or 10 laps around the tight, three-eighths-mile oval, getting up well over 100 mph.
But you're a doer. So you'll also want to tack on some driving of your own: a minimum of 15 laps, as fast as you can go.
You can worry about the carbon offsets later.