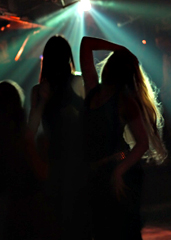 If we learned one lesson last night, it's that M.I.A. has bad manners.

Well, that, and that it would've been better to be there.

It's always better to be there...

Introducing WillCall, a trusty new iPhone app that connects you with an edited short list of last-minute shows and sells you tickets day-of, available now in SF.

Okay, so getting a last-minute ticket to the Super Bowl might be a stretch, but getting into local shows at the last minute is well within this service's qualifications.

Think of this as the app equivalent of being friends with someone who works at a record store and knows way too much about music, without having to be friends with that person. Also, this friend will get you a discount and ensure that your tickets are waiting for you at the box office.

Let's say you're meeting a date for drinks after work, and after the second round you need a change of scenery and some live music. You can pull up the app (or have daily notifications pushed to your phone), scroll through the short list—like Shabazz Palaces at Yoshi's, or VHS or Beta at Rickshaw Stop—and boom, points for spontaneity.

It's a two-boom kind of day.