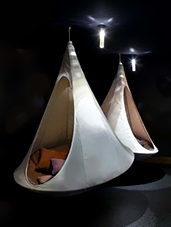 You know what they say.
When life gives you camping, make camp... onade.
No, not that.
What we're trying to say is. It's just that.
Ah, f**k it, here's a tent that looks like a floating Hershey's Kiss...
Take a look at
Cacoon
, the next big thing in overelaborate camping equipment and/or floating living room furniture. It's half tent. Half hammock. And it's available now.
Yep, a floating Hershey's Kiss. That's exactly what this thing looks like. And that makes sense, considering it was designed by some guys who also happen to build sails for yachts (note: this makes no sense).
Either way, there are a few ways you could deploy here. There's camping, of course. It's made out of weatherproof canvas, so it can definitely keep you warm, dry and off the ground on your next camping trip. Hang it in a tree, climb in and boom—hovering tent.
Then there's the off-season. Those times when you're not necessarily camping, but also wouldn't mind bringing some of that vibe into, say, your living room. It comes with everything you'll need to hang it from a support beam anywhere in your house.
Which you'll want to do right around the time when the fire is crackling, the red is decanting and a certain pulchritudinous acquaintance of yours happens to be in the immediate vicinity.
And willing to dangle from the middle of your living room.