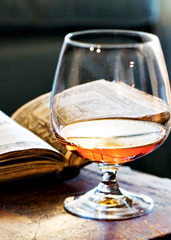 Right now, your Sundays are spoken for. High-stakes football. Higher-stakes chili.
But in a few short weeks, you'll need to fill the void. Maybe with something a little more... cerebral (not that Cris Collinsworth isn't).
And if it involves tasting menus, cocktails and your upper-cohort peers, even better.
So say hello to
The Coterie
, a members-only club that recognizes, in the tradition of Churchill and Hitchens, that the best ideas are often hatched over a few drinks and some inspired food. They're taking memberships now in advance of a soft launch later this month.
If this sounds a bit like the
No. 68 Project
, which sold out a few intellectually minded dinner parties on Sunday nights last year, it's no accident: this is by the same folks. Only now they're making the whole thing a little more permanent.
Here's how it works: your membership gets you into their intimate monthly cocktail parties at Fathom Creative on 14th Street. There, a local mixologist will stir your drink while an author, entrepreneur or pol holds court (don't worry, there is no required reading).
They'll also have similar events with seven-course tasting menus from local chefs, as well as a dedicated reservation system, through which those same chefs will prep special menus for members at their restaurants.
But you'll have to lead your own conversation.