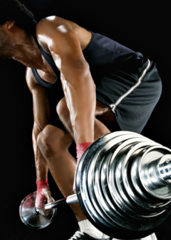 This month, it's all beef Wellington, eggnog and cakes shaped like Yule logs.
But soon (four short weeks soon) there will be a reckoning at hand.
And, it so happens, we've got just the place for said reckoning.
It's called
CrossFit Praxis
, and it's now open on 14th Street under the direction of guys who have triathlons, mixed martial arts and Olympic bobsledding (yes, really) on their résumés.
You've heard of those gyms with eucalyptus-scented showers and rooftop party decks. This isn't like that at all. In fact, quite unlike most of the things we tell you about, this is basically the place to go when you'd like to punish yourself.
You'll take your masochistic streak to this giant, wide-open room full of medicine balls, gymnastic rings and barbells (ropes and monkey bars are on the way). But they won't throw you to the dogs immediately. No, first you'll complete an introductory program that preps you for the intensity levels to come.
Once you get through that, you can drop in for the Workout of the Day, which usually manages to be creative and still involve endless timed reps of pull-ups. Dead lifts. Grunting. Panting. Basically, the stuff that Rocky did in the wilds of Siberia before bringing the USSR to its knees.
Although, it must be said, Rocky wasn't much of a bobsledder.