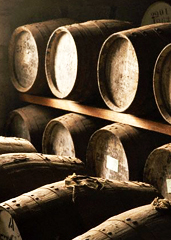 Today, we'd like to talk about what you'll be drinking well into the evening on Thanksgiving. Next year.
Introducing the
Copper Fox Distillery's Barrel Kits
, available now at the distillery and local liquor stores to let you oak-age spirits to your exact specs.
This is the opportunity you've been looking for to barrel, age and blend your own Virginia whiskeys. And unlike your attempt to build your own golf course, there aren't a lot of moving parts here.
Your kit starts with two 750ml bottles of either Copper Fox's Wasmund's
Rye Spirit
or
Single Malt Spirit
, smoked over apple and cherrywood and bottled clear and hot at 124 proof. Also, a barrel. We're talking new, charred American oak, just big enough to hold your hooch. (If you're looking to age more, they may be able to help you with a bigger barrel at the distillery.)
In any case, you'll dump your spirits in the barrel, seal it and find the perfect spot for it to age as long as you like, keeping in mind that motion and temperature fluctuation will accelerate the process (your car trunk will work in a pinch).
Then next year, once you've rebottled it and named it, you can show off to your family and friends your latest crowning achievement.
Just don't let them see you barrel aging next year's mashed potatoes.