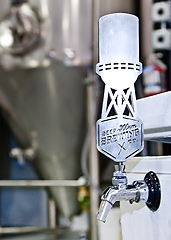 Hey there. Today, we just have two quick things:
1) That nurse you met last night. Not actually a registered nurse.
2) You can finally order a beer that was brewed right in the middle of the Big D.
Okay, so one quick thing...
Unveiling
Deep Ellum Brewing Company
, a massive brewing company in the heart of Deep Ellum, launching November 12 at the Common Table.
Yep, brand-new beer—specifically, one from the largest brewer in Dallas. It's an old brick warehouse that'll churn out over 5,000 barrels a year, and comes from two pint-lovers/pioneers: John (a former Dallas bar owner and home brewer) and Drew (a wonder boy from Schlafly in St. Louis).
But back to you drinking this stuff. In 11 days (go ahead, mark your calendar), you'll venture to the Common Table. Here you'll belly up to the bar and utter, "One
Deep Ellum Double Brown Stout
brew, please." Then it'll happen: a glorious dark pint will appear in front of you. Compose yourself. Then let the magic elixir hit your lips, as you get hit by a porter taste with a hint of chocolate.
In early 2012, you'll be able to head to the brewery's tasting room and sample up to four brews, including their blonde ale, the
Backslider
.
Anything to support the local economy.