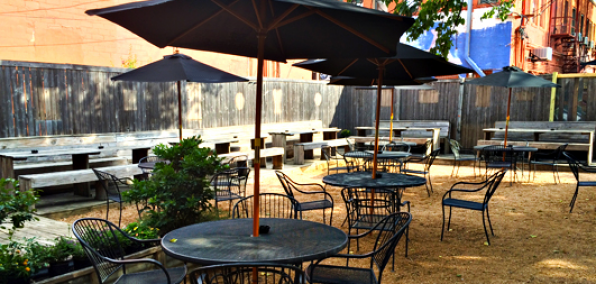 We've got breaking canned-fish news.

Sorry, just wanted to use a sentence that's never been written before.

But also, it's true.

Because here's Eight Bells Alehouse, a casual new hangout that's peddling good beers and small fishes, now open at Expo Park.

This place inhabits the old Amsterdam Bar. And it comes to us from the folks behind Ten Bells Tavern. Which tells us two things: 1) these guys are really into bells, and 2) you can expect to drink good beers and eat better-than-usual bar food whilst here.

Inside they're still putting on some finishing touches. But that heavy wooden bar on the left is where you'll request draft beers (Old Speckled Hen, 90 Shilling), whiskey and other liquids. The wooden tables on your right are the place to be when your party numbers more than two. And that sprawling back patio will be a lot more compelling once the fear of melting lessens.

And here's something. The kitchen is making a couple nice sandwiches, plus some salads and charcuterie. But they're also importing high-end canned fishes, like the kind you see in Europe's pubs. We're talking sardines in olive oil and tuna with piquillo peppers.

The sandwiches are not canned.