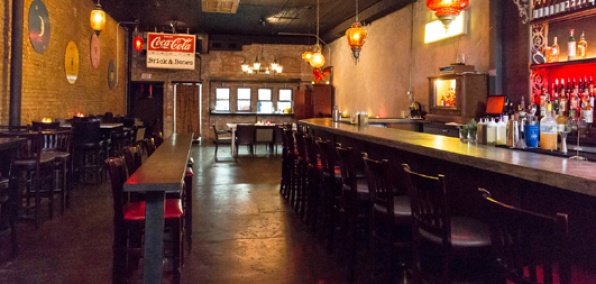 You can hardly walk through Deep Ellum these days without tripping over good drinks, hot dogs and tasting menus.

It's nice.

But there's been one glaring, fried-chicken-y oversight.

Here to sort that out is Brick & Bones, an easygoing bar that's doing important work in the respected fields of fried chicken and beer, now open on Elm Street.

The stone-topped bar, brick walls and glowing lamps conspire to create a relaxing hangout. They've fashioned an old TV into a liquor shelf, and if you look up, you'll see doors hanging from the ceiling. Because no one tells these guys where they can and cannot put liquor and doors.

The drinks are all named things like Huckleberry Hound (vodka, Campari, basil syrup, strawberry and cucumber) and Foghorn Leghorn (tequila, Ancho Reyes, peppercorn-honey syrup and tamarind). So that's fun.

And to eat: the menu's sporting jalapeño biscuits, deviled eggs and a 10-piece bucket of fried chicken. Swing by before a show at neighboring Trees. After a show at Dada. Or just anytime you're not currently in possession of a 10-piece bucket of fried chicken.

Together we can eradicate those times once and for all.