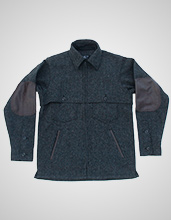 The cold.
Unfortunately, not a one-day meteorological fluke. It's here. It's mean. It requires jackets on a daily basis.
So it may be time to grab some hunting-ish outerwear from your favorite 169-year-old Vermont wool manufacturer.
Introducing
Johnson Woolen Mills for Wilderness Workshop
, an urbanized take on the legendary outerwear company, available now at Wilderness Workshop within the Tannery.
If you've always felt that the stuff you wear during a healthy round of obliterating clay pigeons at the hunting club with Charlton Heston's niece is less than evening-ready (at least outside of the Green Mountains), then these are the clothes for you.
The guys at the Wilderness Workshop have taken the classic Johnson Woolen Mills outerwear forms and given them an updated, less boxy fit for everyday urban life (read: the streets and the bars). They've got everything from gray herringbone jacket-shirts with leather trim to heavy wool hunter coats, all redesigned with a slimmer, more stylish fit (leather accents over pockets = more stylish).
Our favorite piece is probably the heavy-wool
Shooter Shirt
, complete with elbow patches, warm hand pockets and a reinforced right shoulder for shooting.
Guns or tequila.