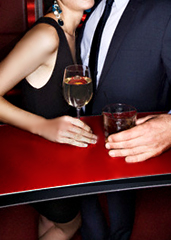 Let us break this to you gently.
There's a good chance lots of people are talking about you online. Your ex, for example. And your other ex. And the ex before that.
You see, this thing now exists:
ExRated
, a website empowering all your former loves to rate your significant-othering ability, online now.
Oh, don't worry. It gets worse. It also creates a social network of all those exes—meaning everyone who rates you will be linked together. Basically, it's
The First Wives Club
meets Yelp.
The site's fairly new, and some of the coding is shaky, but it's just stable enough to be dangerous. For instance, you remember a certain ship you passed in the night after this weekend's beach polo-ing (tall, blonde, had a thing for mallets). Now that ship can give you a star rating of one through five. That's right. Stars.
So right about now you're starting to have a lot of empathy for that little Thai restaurant you ripped a new one. (In your defense, the bubble tea was gummy.) But your reviewer will need to give some pretty basic info about you. Like your name. Keep in mind, it can work in your favor: they have the option to recommend you to a friend.
If that had only happened before you broke up.