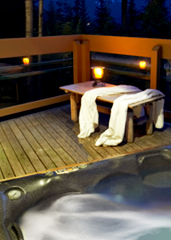 A cool, wet fall breeze has finally announced its presence. It's almost speaking to you. It's saying: "Find an outdoor hot tub."
Ignore for the moment that you're conversing with the weather, and focus on the fact that you have an answer at the ready (which means no, you can't be crazy).
That answer:
Hot Tub Heaven
, a collection of remote cabins near the Blue Ridge Parkway, all sporting outdoor hot tubs and booking now for fall weekends.
Okay, we know what you're thinking: this sounds like a spa where Russian mobsters hang out. Nope, just nine remote, renovated cabins in the mountain woods, each on an acre or more, close by a lake and the Appalachian Trail.
But that's not to say there isn't a bit of intrigue. You see, you won't know exactly where your cabin is until you book. Then they'll send you a confirmation with the exact address and the combination to the lockbox on the door.
Outside on the deck, you'll find your quarry—a hot tub that holds as many as the cabin (usually six). And all you'll need to bring is some charcoal for the grill, some meat to throw on it and your usual complement of exotic beverages, because inside you'll find it fully equipped with all the essentials—towels, a fireplace... some even have a record player and a few old vinyl discs.
Don't take any chances—bring your own Rick Astley LPs.