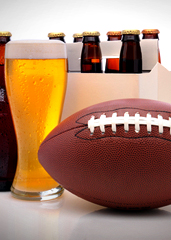 We can say this: those new Maryland uniforms have gotten your attention. You want to be a part of it.
You'll need some inspired carnivorous provisions, a hearty supply of beer... and maybe some military-level logistics when it comes to the heavy tailgating equipment.
So let's welcome
Andy's Tailgate Cruiser
into your fall weekends, giving you game-day rental of all your tailgating hardware at RFK, Nationals Park and Maryland's Byrd Stadium.
First, a few words about Andy: a former naval officer, he was once in charge of catapulting planes off the USS
Kitty Hawk
. But now, he's turned his organizational skills to equally pressing matters: namely, your next meat and beer extravaganza in a parking lot.
So once you put the UMD-UVA game in your sights, you'll hop online and reserve either one of his standard packages—chairs, table, grill, propane tank, cooler, tent—or go à la carte, with add-ons like corn toss. On game day, you'll approach Andy's HQ and find your gear preloaded into one of his specially designed carts.
What you'll need: nothing but your usual array of wild boar kebabs and ostrich burgers, and a keg topped off with your grandfather's hand-carved tap handle (yes, the one in the shape of Thor's hammer).
When your troops are sated and kickoff is imminent, you just return the cart as is. Or, for an extra $25, they'll even set up your tailgate site and break it down for you.
Don't be surprised if a catapult is involved.