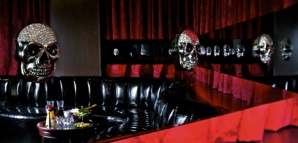 Whether real or imagined, it seems nothing can escape the recession, not even nightlife. Which is precisely why Vegas needs Christian Audigier The Nightclub.

Putting a little piracy back into Treasure Island, Christian Audigier is launching his modestly named club and lagoon-side patio on July 3, with a grand opening on July 4.

Breaking with bottle-service tradition, the VIP booths at the club won't lock you and your guests into a set number of bottles. Instead, there's a minimum tab you need to spend, which you can do by ordering anything you please—cocktails, wine, beer—even water.

So it's a friendlier club than you might expect from Audigier, the designer-culprit behind Ed Hardy, Diesel and Von Dutch, and a demigod to the tribal tattooed meatheads who populate Rehab and drive choppers. Of course, it could all end badly—but in its infancy, it could be quite the social experiment.

The old Tangerine space has been expanded to nearly 10,000 square feet—mirrors, roses and skulls are scattered everywhere, while Moon Jelly jellyfish hover in an LED-lit saltwater tank (we'd pass on a swim). Checking the rest of the boxes on the Audigier design template, there are also black stone walls, an industrial sheet-metal ceiling, crimson velvet curtains and, of course, crocodile-embossed patent leather booths.

Bizarre though it sounds, it just might be the right place at the right time.