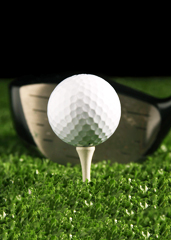 We're expecting a full moon this weekend (actually, the astronomers are, but we'll take their word for it).
Which always makes you do strange things under its spell. Like try to carry a 7 iron 180 yards.
Presenting
Night Golf at Blue Mash Golf Course
, teeing off on Friday evening to give that smooth stroke of yours the challenge it's been looking for. Namely, darkness.
This is your typical nine-hole jaunt, except the tees, greens, holes and hazards are illuminated by nothing more than glow sticks. On the other hand, your golf balls glow in the dark, too, so at least they'll be easy to find for once.
Now, normally your game is so finely tuned that you wait until post-round to hit up the gin, but this is the exception, so you'll want to gather your partners (you'll need at least one to register) in the clubhouse for some pre-round strategizing ("hit it straight" still works well).
Then it's into your cart and onto the short grass, as you set out to collect birdie after luminescent birdie. And if the golf gods aren't with you, you'll be able to buy extra glow balls around the course—and hit up the strategically placed drink cart.
Watch out for polo-shirted werewolves.