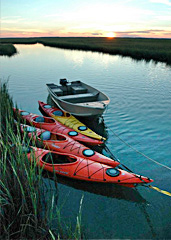 Not only did the first date go well, but so did the sixth. Congrats.
We think something a little more advanced is in order. Like a remote, 100-year-old cabin. Accessible only by kayak. In the middle of an Eastern Shore marsh. For three days.
Yes, it's make or break time, because we're about to lay on you
The Ultimate Eastern Shore Escape
, taking reservations now for the prime September and October months.
This is a vintage oysterman's cabin (it sleeps six, but you'll keep things more intimate), controlled by a kayaking outfitter on Virginia's Eastern Shore. Good thing, because you'll need to paddle four to six hours just to get there.
Now, if you explain this to her and she says, "Sounds like the setup to a slasher movie," then this is probably not the weekend for you. But if she says, "Sounds like
The Bridges of Madison County
meets
Walden
," then full steam (er, paddle) ahead.
Day One: you set out with a guide through the Virginia Coast Reserve, stopping for a beach break along the way. Meanwhile, Dave (he's the owner) boats ahead with your essentials—cooler, luggage, candelabra—and starts cooking you some fresh fish for dinner.
Day Two: you can tour the local barrier islands or do some environmental volunteering before you return to crack that champagne.
Day Three: Dave shows up to prep you a final breakfast, and it's back in the kayaks to return to civilization.
You never kayak without scrapple in the morning.