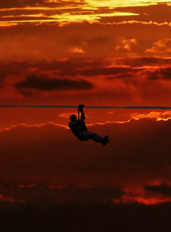 This past weekend: a doozy. Between balancing the budget, reenacting Civil War battles and installing a water park in your backyard, you barely had any time for your usual swashbuckling adventures.
It won't happen again, thanks to
Night Climbing
, happening this Saturday at Sandy Spring Adventure Park in Maryland, letting you live out all your Batman-related fantasies.
Now, this doesn't mean you'll be swinging between buildings and popping up unexpectedly behind the city's most hardened criminals (although this would make nice practice for such pursuits). But you will spend your evening in five acres of treetops, using nothing more than rope bridges, cables and ziplines to get around the 150 aerial platforms. And, oh yeah, it's dark.
You'll want to recruit your best Batgirl (note: a Catwoman will work in a pinch) and head to this park, a few miles north of the Beltway. You're allowed to bring headlamps, but if you're really feeling daring, just trust your instincts and give in to the dark (there won't even be a moon).
They'll give you a harness and gloves and let you loose on the 10 courses, designed by Swiss mountaineers. You can start simple (and low to the ground), but as you get used to things, you can climb cargo nets and navigate tiny pieces of wood to reach platforms 50 feet in the air.
You always wanted to join the 50-foot-high club.