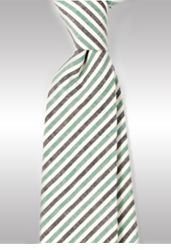 The Coen brothers have inspired your life in many ways.
Your brief experiment with a
Fargo
accent. The refined way you wear a robe while drinking White Russians. Your remake of their remake of
The Ladykillers
.
And now, they've inspired your next necktie.
Introducing
The Knottery
, a rotating line of ties and pocket squares named for characters from Coen movies, available online now.
It starts, naturally, in Brooklyn, where a couple of movie-loving tie buffs (or tie-loving movie buffs) set out on a mission to find the perfect raw material for your neck. That mission took them to estate sales and military surplus shops, and the results include gingham seersucker ties and striped linen pocket squares—all of which are worthy of Sidney J. Mussburger. (You may know him as Paul Newman in
The Hudsucker Proxy
.)
So we're picturing it now. Early August. A summer wedding. You introduced the bride and groom shortly before setting sail for Tangier. It was complicated. But now, you're back in America, and you've got mystery written all over your face. Everyone else: sweating profusely. You: not. You've got a linen Barton (as in Fink) tie on, and everything about you is cool.
Just avoid the
No Country for Old Men
hair products.