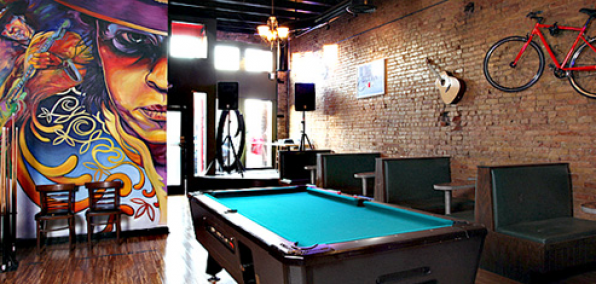 The green room. A mythical place of groupies. Leather pants. Bowls and bowls of brown M&M's... only brown M&M's.
Come to think of it: seems like a great place to open a bar...
Introducing
Red Room
, a new watering hole located inside the old green room at Club Dada, soft-opening tonight in Deep Ellum.
You're
familiar with Dada
: the bar topped in CD covers, the huge murals, the creepy gargoyle-type statues out front. But out back, they've overhauled the space where the likes of Old 97's used to relax before shows—all so you and other up-and-coming rock gods can shoot pool.
So, to be clear, this isn't the place to go if you need an upscale gastropub to schmooze with people named Winthorpe III. Instead, you'll come here for beer, pool and pre- (or post-) show tacos.
The space is skinny and brick-walled, with a small stage, a pool table and one massive mural of Stevie Ray Vaughan. (Worth noting, the Red Room: not that red.) After shooting stick with some hipster-ettes from Deep Ellum, you'll grab a green booth around a table covered in vintage photos of everyone from Jack Ingram to Tiny Tim. Oh, and you should know they're installing five video games (including Ms. Pac-Man) sometime next week.
Try not to spill any beer on the joystick.