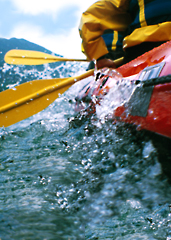 What we'll talk about today involves wetsuits. It's okay, you look good in a wetsuit. It also involves smoked meat. And you know how becoming that can be.
Happily, River & Trail Outfitters is now taking reservations for its
Savage River Dam Release Rafting
trip, a rare one-two punch of crazy whitewater and riverside tailgating. The next trip is July 3.
Not to get all Army Corps of Engineers on you, but this Maryland river is usually pretty calm—except for three times this year, when an upstream dam is opened, resulting in nonstop Class III and IV rapids below (the Roman numerals let you know it's serious).
What you'll need: three to five fellow paddlers of stout heart and back (or at least some people who'll look good while putting in the effort). And that's about it. They'll provide your boats, paddles, guides and the aforementioned wetsuits (yes, the water is that cold).
After five miles of whitewater runs through the old-growth forest, they'll give you a quick snack and... take you back up to do it again. And when the second round is done, they'll set you up with a giant, tailgate-style barbecue.
Note: wetsuit also doubles as bib.