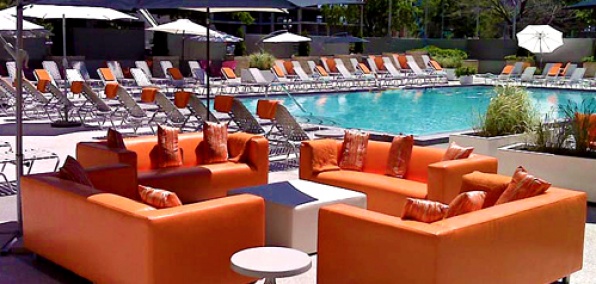 Today, we'll tell you about your weekend. It involves rum punch, food trucks, DJs and beautiful people.
Being that this is how you spend most of your weekends, you probably feel that we owe you a bit of a plot twist.
Here it is: those beautiful people will be wearing a whole lot less. Because the whole thing is at a pool.
Prepare to usher in this year's
Dubsplash at Capitol Skyline Hotel
, beginning Saturday and continuing all summer to give you another reason to start your alfresco cocktailing at 11am.
You've whiled away an afternoon at this Miami-esque scene in summers past. But this year, the folks behind ESL Music, Marvin and
Patty Boom Boom
are taking over the 20,000-square-foot pool deck—which means some of your favorite local DJs, reggae singers and funk bands playing within reach of your cannonball, as well as the promise of some larger (yet to be named) acts in the adjacent lot.
Of course, you'll need something to sustain you, especially as you fend off would-be poachers of your deck chairs. For that, turn to the rotating array of food trucks (this weekend: Fojol Brothers and Sweetflow Mobile), and margaritas, rum punch and vodka lemonade from the satellite bars.
Should your day turn to evening (it often does), you can always repair to the bar inside for a proper cocktail.
Don't forget to throw a shirt on before you repair.