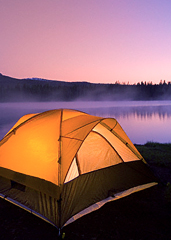 Your list of summer necessities is short:
1. An outdoorsy, adventurous-minded companion.
2. A sleeping bag big enough for the two of you.
Of course, somewhere inviting to throw that sleeping bag down helps. Someplace... prearranged, as if someone knew you were coming to this particular spot of woods.
They did. Presenting
Camper Ready Camping at Little Bennett Campground
, accepting bookings now to take some of the labor out of your romantic weekend excursion into the (semi-) wild.
Think of this as turnkey camping (or turn-zipper, as it were). After reserving at least a week ahead, you'll take the short drive to this 3,700-acre park, where one of their 90 campsites will have your name on it. Literally. It will also have a tent big enough for four, a camp stove, a lantern and two chairs all set up and ready to go.
Your job: just bring that sleeping bag, some appropriate provisions (now seems like a good time to break out your famous short-rib s'mores) and maybe a blacklight poster if you really want to set the mood inside your nylon walls.
In any case, by day, you'll set out on 20 miles of trails, or pass the time with slightly more leisurely pursuits (horseshoes). Then you'll retire back to your campsite for some tent-specific activity.
Yes, ghost stories.