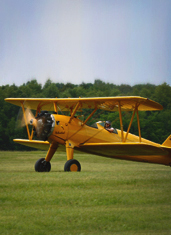 We couldn't help but notice: despite your freewheeling ways and your devil-may-care attitude, your life thus far has been remarkably devoid of hanging upside down from a World War I–type biplane.
We're not here to judge; we're just here to remedy that.
Presenting
Aerobatic Rides at Flying Circus Aerodrome
, beginning its 2011 season on Sunday to give you the adrenaline high you've been craving.
This is your chance to spend 15 minutes doing barrel rolls and spins in the kind of plane that Indiana Jones might have made an escape in (there are no snakes).
You'll head out to this grass airfield in Virginia horse country, where they host air shows every Sunday at 2:30pm (think wing-walking and other seemingly insane feats of daredevilry). But since you want to be a little closer to the action, you'll come early or stay late for these first-come, first-served rides (starting at 11am).
First up: they'll issue you a parachute (not that that should make you nervous). Then they'll strap you into one of their biplanes (some decades-old) and cruise up to 3,000 feet. There, over about 15 minutes, the pilot will take you through roller-coaster-style loops, spins with the plane's nose pointed directly at terra firma, midair stalls and something called the "Cuban 8."
We're pretty sure it involves rum and plantains.