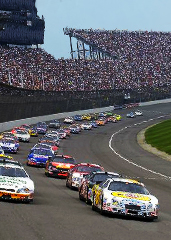 It's always high on your spring agenda: hitting the open road and really opening up your engine.
Or, failing that, going in a big circle and opening up your engine. Especially when your engine is something that Dale Jr. might use.
Which leads us to
Monster Racing
, here now to strap you into a stock car and let you run laps around an actual NASCAR track.
Your day will still start with a road trip (to Dover International Speedway in Delaware), but it isn't until you arrive that the driving really begins. They'll issue you a helmet, gloves and a racing suit (that is, if your existing sponsors haven't already provided you with one), and lead you down to the track with your friends (yes, you can call them your "pit crew").
Your requirements: nothing more than a driver's license and an ability to climb into the driver's seat via the window (borrow your technique from Cole Trickle in
Days of Thunder
). Your expectations: a quick orientation lap in a van, followed by some one-on-one help from an instructor. From there, you'll take the wheel for 10 laps at a time, following a pace car that increases speed every lap, as high as 120 mph.
If you like, they'll shoot photos of you on the track, or even record your cool demeanor from a camera inside the cockpit.
The Speed network will undoubtedly want to get its hands on it.