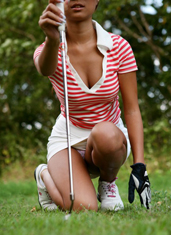 Your golf game: strong to very strong.
But let's face it, there's always room for improvement. And actually, a personal caddy couldn't hurt either...
Especially when she's about 5′ 9″, blonde... and may or may not mistake the fairway for a catwalk.
So say hello to the
Myrtle Beach Caddy Girls
, a crack team of cart-driving, sand-trap-raking beauties ready to do your fairway-centric bidding, now available in Atlanta.
Yes, Atlanta. Despite that whole Myrtle Beach thing, they've recently recruited a handpicked batch of local caddies (who also happen to moonlight as models) right here in the city. Then again, you could always import your talent from Myrtle Beach by perusing the website and requesting your favorite club-toting, kneesock-donning abettor that way (they're not afraid of a road trip).
So let's say Mr. Wu and the gang happen to be in town this weekend for the annual shareholders' meeting at Augusta National (Mickelson won't mind if you play through), and you want to show them the right way to golf. Hop online and provide your tee time, number of golfers and number of caddies you're looking for.
And just like that, your comely sidekick(s) will show up at the appointed time, drive your cart, fix your divots, read your putts, tend the pin and even track down the beer cart girl for you.
Don't do anything Tiger wouldn't do.