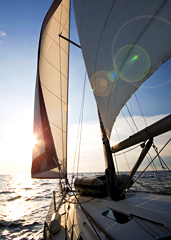 Today, we're having a vision: it's May. It's 75 degrees. And you're utterly unreachable.
Not that you won't have responsibilities. After all, you're captaining a boat. Your boat. At least for the day.
Let us explain, as we tell you about
Carefree Boat Club
, a boat-sharing outfit out of the Southwest Waterfront, now accepting members for its 2011 season, which starts April 15.
As you might have guessed, this is akin to a maritime Zipcar program. If you're a little rusty on your port vs. starboard, not to worry: your membership includes as much instruction as necessary to get you up to speed.
After that, you'll be able to book up to four half-day reservations at once from their fleet of 50+ boats, from 21-foot ski boats and fishing boats to 26-foot sailboats and overnighters. (Sorry, no tugboats.)
When you arrive at the marina, the deckhand valet service will already have your vessel cleaned, gassed and serviced. From there, it's just a matter of securing the proper provisions for your crew (we recommend Bloody Marys and mimosas so as to avoid scurvy on the high seas) and ensuring the proper ratios (i.e., one Mary Ann for every Ginger).
You'll also have privileges at their sister clubs down the Potomac in Occoquan and Annapolis, should conquering the Atlantic waters be on your to-do list.
Drop us a note when you hit Ireland.