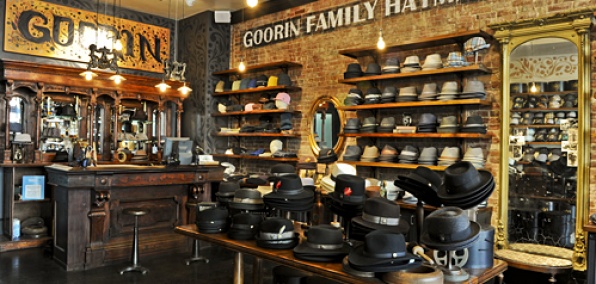 You have a great head. Really, a phrenologist's dream.
And while you amaze passersby with its shape, proportions and general animal magnetism, sometimes the day at hand calls for a hat like Roger Sterling would sport to another legendary liquid lunch...
Enter
Goorin Bros.
, your new high-end, San Fran–based hat emporium that's sort of like the opposite of Lids, now open in the Back Bay.
Think of this place as the kind of spot everyone from Don Draper to Colin Farrell (during his wool-cap-in-the-dead-of-summer days) would hit up when they needed a spiffy new headpiece, ideally from a hatmaking family that's been covering heads since 1895 (known as the golden age of headgear).
You'll want to first check out their Heritage collection, featuring everything from bowlers to wide-brim fedoras. And being a stickler for authenticity, you'll be pleased to learn they're all made using the brand's original head molds and designs from the late 1800s (think Michael Corleone in
The Godfather
).
And as the weather gets warmer and the settings more casual, you'll want to take a look at their straw-woven fedoras (they go great with your vintage bebop spats). They've also got plenty of flat and duck-billed newsboy caps, just like the ones you see Brad Pitt frequently sporting.
Pitt's been copying your style for far too long.