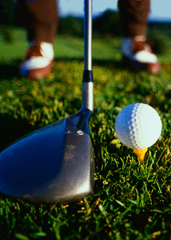 We have it on good authority (the Internet) that this weekend, the weather may break.
Which means dusting off those golf clubs and collecting your first birdies of the season. And, of course, you'll warm up just the way you like before hitting the first tee: with a few black-diamond runs.
Introducing
Ski & Tee
, a late-season offering at Wintergreen Resort in Virginia that lets you transition seamlessly from winter sport to summer sport.
This is the kind of thing Phil Mickelson would have done had he grown up in Northern California, not Southern. And like Mickelson, you and your band of polo-shirted adventurers will awake bleary-eyed at dawn, clip into your bindings and head out onto the 26 trails and two terrain parks (you like to do your first 360 before breakfast).
Around noon, you'll want to grab a quick round of burgers and ales at the grill. You'll also want to change your shoes, because you're about to descend 3,000 feet to the 27-hole Stoney Creek Golf Course. Flash your lift ticket, and you're on the first tee to face a tough, hilly test designed by Rees Jones, known as the "Open Doctor" for his work on US Open courses.
But you're not quite done yet. Because right around happy hour, you'll want to head back up the mountain, as they turn on the lights on 14 of those trails for night skiing.
It's a lot easier than night golfing.