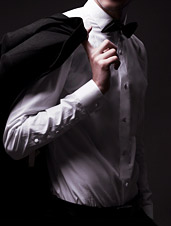 You've got an immaculate tux, strictly for special occasions.
And then you've got another tuxedo—a backup for formal mud wrestling, mixed martial arts gala/battle royales and parties accessible only by moat.
Or at least you do now.
Introducing
The Washable Tuxedo
, the world's first wash-and-go tux, available now.
Yes, this is the breakthrough you've been waiting for: a tuxedo that can withstand whatever blood, sweat or tears life throws your way. It's the product of years (if not decades) of concerted study toward a single, all-consuming goal: formalwear you can throw in the washing machine.
To be clear, no one will mistake it for your Oscars tux—polyester's involved—but it should come in handy next time you need to parachute out of one of Diddy's zeppelin parties. It's made from recycled soda bottles and is invulnerable to mud, cranberry vodka, jet fuel, deer blood and anything else that might find its way onto your lapel. So no matter what variety of black-tie-mandatory motocross (also known as tuxocross) you find yourself engaged in, your jacket and pants will emerge just a few spin cycles away from good-as-new.
Bulletproof cummerbund not included.