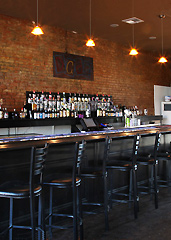 Look at it out there: it's freezing.
We know just what you need: a beach, a bungalow and a mai tai–dealing waitress named Sonita.
And we hope you find her. We really do. But today, we bring you something else to warm your soul: live music and your very own green room.
Meet
Club Dada
, a resurrected warehouse music hall, opening tonight in Deep Ellum for your nights filled with raucous foot-tapping.
Now, we'll be clear: this place is a divey, no-frills brick warehouse, with semi-gargoyle-type statues on the outside. (Just go with it.) But inside, you'll find a renovated bar, massive speakers stacked around a stage and one enormous courtyard for outdoor shows (on days not like today).
The joint has room for you and 399 of your fellow music enthusiasts, not to mention a bar top tiled in CD covers (the Old 97's, the Toadies and the Backsliders). And when you need a break—or just need to continue that spirited debate on who was most influential, Nirvana or Bieber—you can grab a Shiner and step outside to the brick courtyard.
In two months, you'll come back to find a restaurant/green room dubbed the Listening Room. It's a skinny, brick-walled room with a stage, red booths and vintage video games like
Ms. Pac-Man
.
And only brown M&Ms.