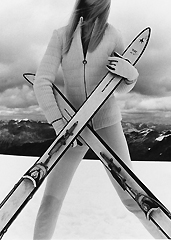 You and skiing have had a beautiful history together.
You conquered the K-12. You went toe-to-toe with Alberto Tomba. You were the inspiration for Dave Marshak in
Ski School
.
And as a result, your skis have seen better days.
Maybe it's time for an upgrade...
Allow us to present
SkiGenie
, a website that's poised to do for skis what Amazon did for... everything but skis.
So let's say tonight's probable snow flurries have you thinking about hitting the slopes this weekend with some shiny new equipment. You'll go to SkiGenie, answer a few questions about yourself, and then the Genie will comb through its 250 ski models and 1,000 sizes to present you with the five best skis for you, ranked by compatibility.
And because you need more than skis and poles to go all Lane Meyer on Wachusett, SkiGenie will also advise you on boots and binding pairings, giving you links to a few reputable online retailers like REI.
We hear this is how Tommy Moe finds his snow gear.