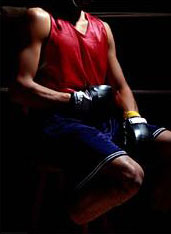 'Tis the season. Struggling with strings of lights. Caroling around the fire. Watching your uncle's friend Terry get drunk on egg nog.
And, of course, fending off knife-wielding assailants.
So we thought you might like to know about
F.I.G.H.T.
, a new program at American Fight Club of Virginia, getting your holiday season started with some Israeli-style ass-kickery.
This is about as no-nonsense as martial arts ever gets. So you won't find yourself trying to bring down the government by trading punches with Meat Loaf in a dank basement (sorry). Nor will you be training for an octagon bout in Vegas. You won't even get a colored belt.
Instead, you'll meet your instructor, Bill, an intense, well-put-together guy, who looks like he has about two of those belts, and they're black. (OK, he does.)
Even on day one in this spartan, mat-covered room, Bill will have you fending off the 25 most common street attacks (no, aggressive solicitors for non-profits don't count—yet). We're talking hand-to-hand stuff, guns, knives, even carjackings (perhaps all that
Grand Theft Auto
will come in useful after all), all based on techniques developed by the Israeli Defense Forces.
But it isn't all just would-be muggings. You'll also—through the course of the tightly packed, hour-long sessions—get yourself into fierce fighting shape with a neverending array of pushups, situps and squats.
Because the best defense is looking like Chuck Liddell.